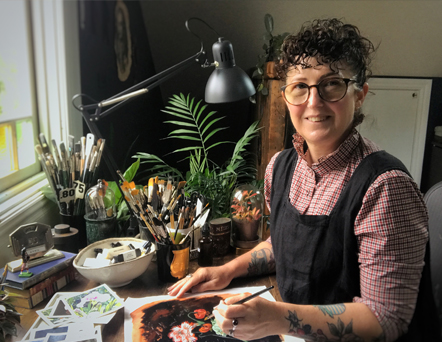 Melissa Hartley is a self taught artist with a background in graphic design. She worked for 18 years in publishing in Sydney and Edinburgh. In 2010 she decided to pick up the paint brush again and pursue her love of painting.
Her works are an ode to the long tradition of Dutch still life painting. Still life contrasts with our lives today which are dynamic, moving and constantly shifting. They suspend time, but it is still a reminder of our mortality, transience, and that things will fade and pass. Time becomes precious.
The isolating effect of deep black seems to heighten the vulnerability and seeming desire to place trust in the viewer. Concerned with its depiction of space, seeking a particular sense of void that seems to arise only in the nighttime, the black depth adds to the dream-like quality. Things start to manifest in the dark, our loves, our fears. This chiaroscuro effect is used for the sake of drama and the emotional impact it implies. Hauntingly beautiful, they contemplate space, time and the fragility of the human condition.
Melissa has been a finalist in many art prizes including The Kilgour Prize, Mosman Art Prize, EMSLA Still Life Awards and the North Sydney Art Prize winning the Award for Painting in 2017.